Topcidersko grmi

Jug se ori od baklji gori, svaki Grobar svoj Partizan voli......Sve je sranje, liga vise manje, zna se prvak jebali smo znanje aaaaaaaa.......

Topcidersko gori Kezmanu levica, izgore Humska dok propada Zvezda pice za pornice, banku za Dusanku Dzaja nek' propadne nije neka steta 2x

Partizan razbija sve zivo ali je derbi na kom bih uziv'o Partizan se voli bodri ga svak ja te volim semafor se rusi nije vise jak.....

Topcidersko grmi 2x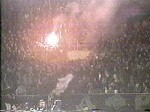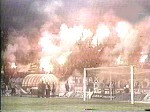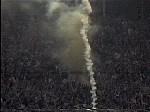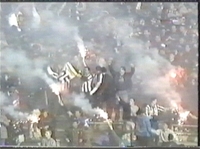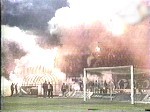 In the year of 1945, when the club was founded, the first Partizan's followers were spotted. In the start there was no fan organization. The Partizan's supporters didn't even had their name.
The first supporter groups were formed in the 50s. Guys from Chukaritza, Rakowitza, Senyak, Topchider were on the northern side of the stadium, and the rest were on the south side.
The first requisits were mostly bells and other stuff. The clubs were supported by loud encouraging and by naming the other team and referees.
The older supporters connect the legend of "The Faithful South" with the years 1965 and 1966.
The eight decade brings the first "real" requisits like scarfs and transparents, when the first chimes were made too.
In 1975 "The Gravediggers" got the first confirmations for their well organization in the many tours they went to.
In the eighties, the elements of today's Gravediggers started to appear, i.e. little fan wars, especially when they were visitors. Every game was, like it today is, some sort of proving that Gravediggers are the best. The fights between fans often happen because the fans followed the motto: "With Partizan till death"
The generation of the nineties, goes like their precursors, but the separation of SFRY gives them smaller oportunities to show themselves. In the middle and the end of the decade, the Gravediggers, show that they are the best and the most faithful supporters.